Bulk Products
Aquatech offers a variety of premium skin care products that you can use to create your own line a line of body, hair and face care items. These are ready to use and can simply bottle them unscented. Alternately, you can add scent, extracts, oils and color. Many of these items we do sell within the web site, plus we offer a limited selection of bottles, jars, caps, pumps and sprayers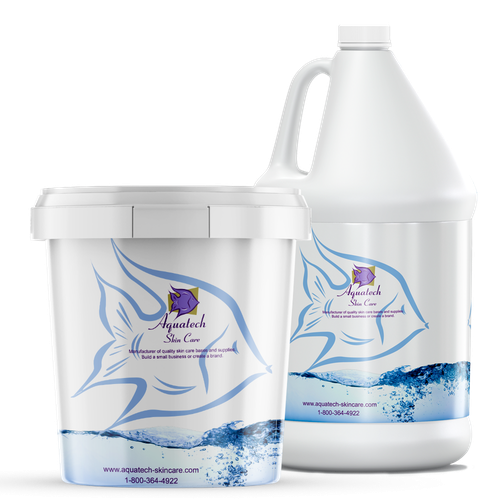 Aquatech offers a variety of products in bulk sizes. Many people see an opportunity and a benefit to make their own. The bases we sell are unscented and uncolored, vegetable derived and mostly natural and many completely natural. Some sell it as is; others add extracts, an active and want a hint of color and aroma. It is a matter of preference.
Lotions, creams and opaque products can take fragrance quite readily. Clear washes, gels and shampoos require a bit more preparation.
Fragrance and Essential oils don't go in as easily into an aqueous solution
.
INSTRUCTIONAL VIDEOS
These instructional videos were created by Aquatech Skin Care to assist in the making, mixing, bottling and packaging of your products. As always, if you have any questions please don't hesitate to contact us.
ARE YOU READY?
Developing your own product line is similar to starting any kind of business. You must have a good understanding of your customer, the market, what separates you from the competition and the niche you intend to target. Then you make a dollar. We recommend you have existing sales to support some initial expenses on first runs.
Design Fundamentals
As the consumer is very sophisticated these days, there is no room for inferior products or major errors. If you have no fine arts background, get a decent artist that can develop a look for your products. Whether it is for your own line or others; the design element should target or convey something to your selected customer. Even if you think you can design it yourself (yet you are not an artist or in the industry).. its really worth paying for a professional to refine your concept or give a second opinion.
Let these ideas simmer for a while, pin them up, get comments, re-design. This is your image and future 'brand', which will become the true value of your business. Bottles, products and packaging might change, but your 'brand' will be around for the life of your business...so you better like it or learn to love it.
Labeling Products Yourself
So your logo and image is decent...this alone can overcome some of the limitations placed on making your own labels. Printed labels are fabulous, but can become costly. Many don't want to spend the money up front, especially if you see changes down the road or testing a new introduction. What's worse is noticing you have spelled something wrong or forgot a key element. Printing labels yourself can keep your costs low, look fairly decent and it won't break the bank.
Inkjet Color Labels
You can print labels from a better quality ink jet printer. The material you are printing on has to be a consideration. Paper labels will need a laminate or protective film. There are newer materials that can encapsulate ink so there is little smudging and even flexible stock. Many sheets are die cut in various sizes so you don't have to cut them out.
One place to find this is www.sheetlabels.com
Small Color Printers
As technology progresses, there are small label printers that offer a lot of design flexibility for those requiring many styles of labels. You order plain roll labels in the size you require and can simply print as little as 1 label. Great for custom or small quantities where you don't need 500 labels and up. There is some cost in purchasing the unit, but
If flexibility and on demand printing is useful…there are a number of companies that can be looked at and reviewed. Kiaro, Afina and Primera Printers.
An alternative to printing at home is a print shop which offers full color labels professionally printed on die cut sheets…without any printing plate costs. As this is digital, you can have a sequence of images in small runs on one sheet, without printing them yourself…and can even have a mixed page. They are permanent, easy to use and very cost effective. Many print shops offer these "stickers" in assorted shapes, but typically not waterproof.
Digital Printing
Those of you that are looking for a professional print job, can seek a label printer that has a newer sophisticated digital printer. Some companies can spend a million dollars on such a system. It prints on a roll with individual die cut labels of your specific size.
They can print on polypropylene in clear and a white. These labels offer the ability to take them off and reposition them, unlike paper labels. Minimums can be low, but pricing gets more effective the more you order. As you progress from hand applying, a label applicator might have to be considered if you are going to finish many of these at your business or home.