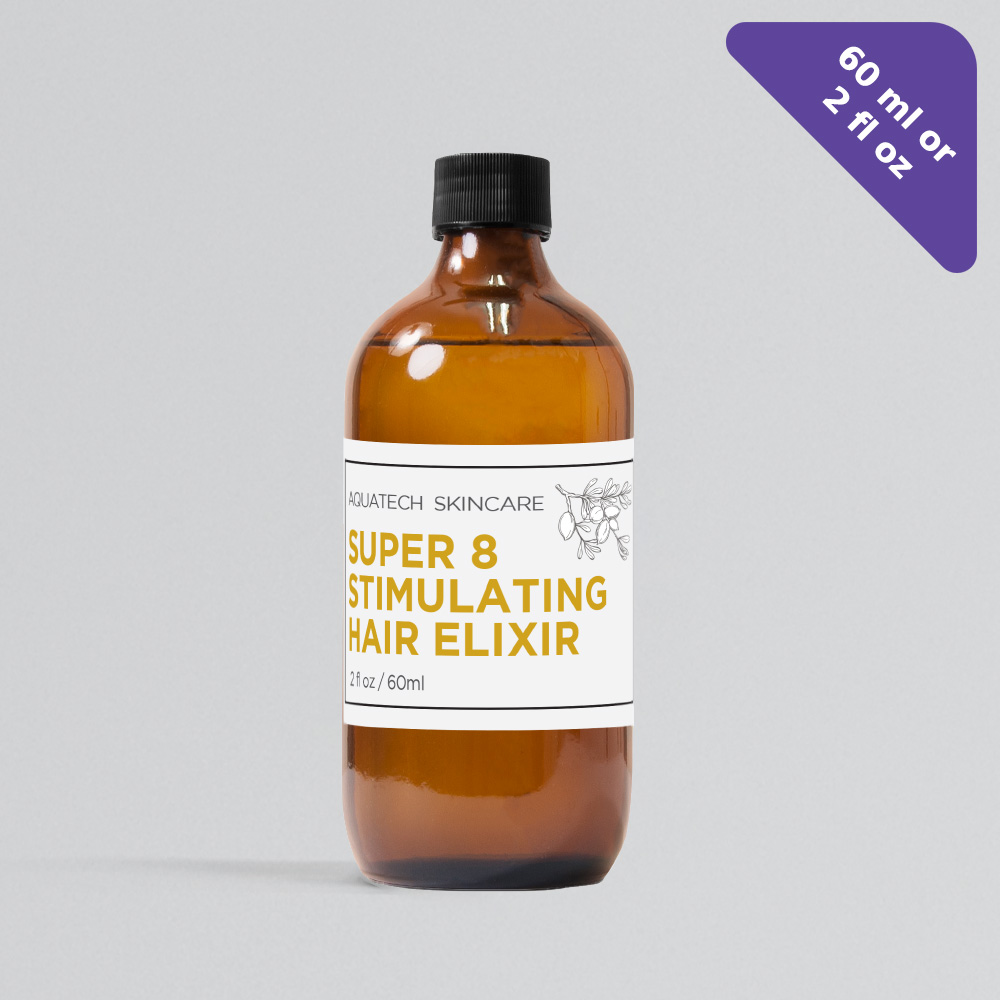 Super 8 Stimulating Hair Elixir (2oz / 60ml)
About the Product

Custom blended oils of Argan, Castor, Amla, Fenugreek, Curry Leaf, Rosemary, Coconut and Calendula. Each have special qualities that support the scalp and simulate the hair follicles. Some people experience new hair growth, while others notice the overall quality and condition of their hair has improved. Argan improves hair's elasticity and shine, minimizes frizz, and even soothes dry, itchy scalp. Castor oil is not only anti-inflammatory and anti-microbial, but it also helps maintain moisture in the skin. The Phyto-nutrients, vitamins and minerals present in Amla oil, helps in stimulating hair growth, both length and volume.




The Fenugreek, Curry Leaf and Rosemary oils, are well documented to each help reduce hair loss, while many noticing new hair follicle growth with time and repeated applications. 




Coconut oil is similar to natural hair proteins and that it has a unique ability to penetrate the hair shaft, correcting damaged and dry hair from bleaching, perms, ironing and over washing. Calendula, commonly known as Marigold, has calming properties for your scalp, reducing inflammation and itchiness. It effectively controls dandruff and has been known to add volume to the hair shaft.




Please Note: there is a mild curry smell inherent from the curry leaf.

Ingredients

Ingredients: Helianthus Annuus (Sunflower) Seed Oil, Argania Shpinosa (Argan) Kernel Oil, Emblica officinalis Fruit (Amalaki), Murraya Koenigii (Curry) Leaf Oil, Rosmarinus Officinalis (Rosemary) Leaf Oil, Calendula Officinalis (Calendula) Flower Oil, Cocos Nucifera (Coconut) Oil, Ricinus Communis (castor) Seed Oil Trigonella Foenum-Graecum (Fenugreek) Seed Oil, Mixed Tocopherols (Vitamin E)

How to Use

Usage: Many people have their own method of application, being daily, over night or weekly treatment.... but here are a couple suggested 




Daily Application: It can be a few drops and gently rubbed into the scalp, then combing or brushing the length of the hair shaft. Not much is required as this oils is strong. Some people do spot treatment on thinning or bald patches




Weekly Application: Depending on how much hair you have, it can be a few drops to a teaspoon. Massage into the scalp and hair shaft, using fingers to pull through the length of the hair shaft. Some pin or tie the hair up, while others have a towel or shower cap and leave it on as a treatment, ranging from 1 hour to the whole day.