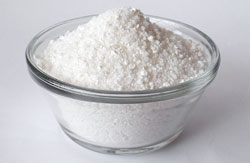 About the Product

Combine the benefits of a sea salt bath, with the luxury of a bubble bath...together in one package. Create added value for your customer and a unique product for you, unlike other bath salts on the market. This sea salt recipe will soften and replenish the skin, while the gentle bubbles will give a spa sensation. Mild on all skin types and SLS free. The product does have some powder content and should be mixed carefully. Simply add fragrance and colour**. If you intend to add extracts or oils, go easy, as the salt will become wet, compress and possibly 'clump" if sitting for an extended time. If you made your salt too wet, spread them out on a baking sheet and keep them in a warm, dry place till they dry out.




** Colour in salt is subject to fade in clear containers. Test your product in the package beforehand. Essential oils are also known to affect some plastic packages. If using a clear tube, look for PET-G plastic. The fragrance is not known to affect plastic.

Ingredients

Ingredients: Sodium Chloride (California Sea Salt), Sodium Cocoyl Isethionate, Cocomidopropyl Betaine, Sodium Bicarbonate, Tri-Calcium Phosphate, Phenoxyethanol and Caprylyl Glycol (Optiphen®).