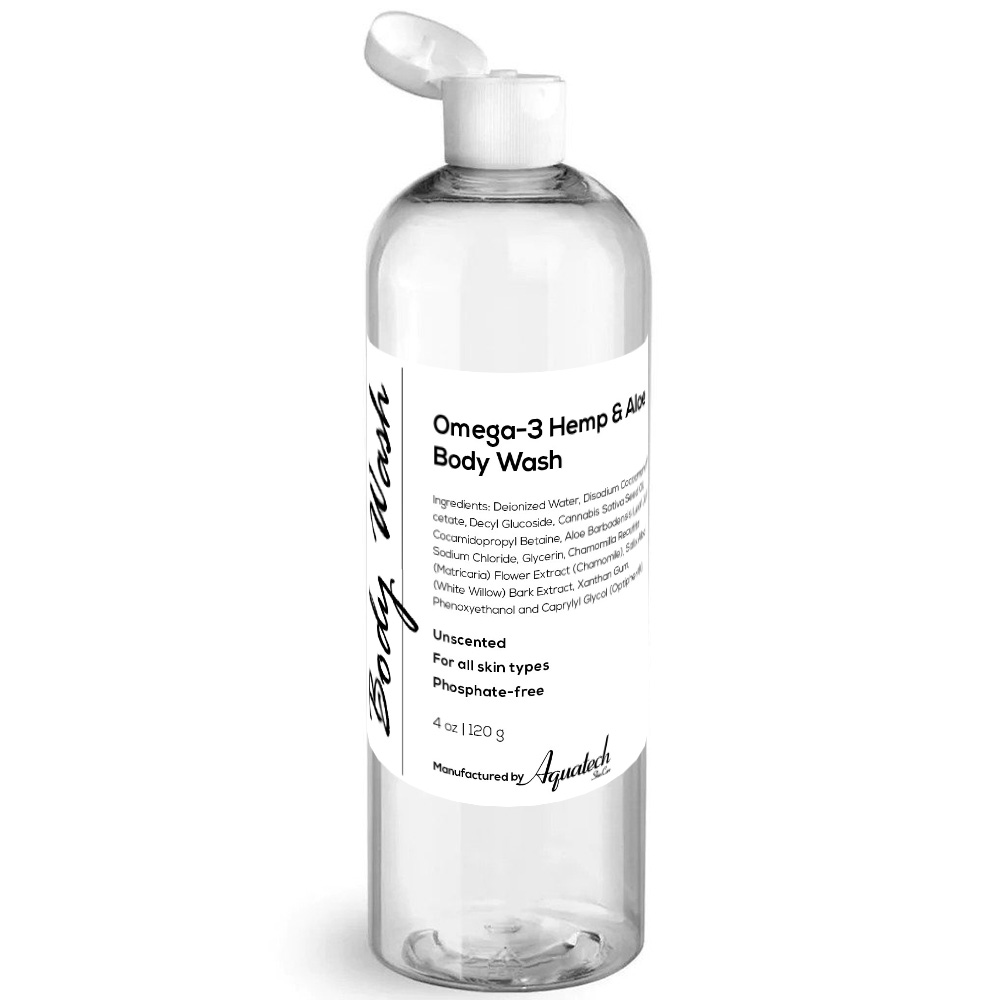 Omega-3 Hemp & Aloe Body Wash
Omega-3 Rich

Infused with Omega-3 fatty acids, our body wash deeply nourishes your skin, promoting a healthy and radiant glow from within.

Aloe Vera & Hemp Extracts

The soothing properties of aloe vera and the restorative benefits of hemp extracts help calm and rejuvenate your skin, leaving it feeling soft, smooth, and beautifully revitalized after each wash.

About the Product

An unscented, clear gel base that's tough on dirt and daily grime, yet mild enough for a face wash* or on children. Hemp Oil contains natural vitamins, minerals, essential fatty acids, and the benefits of Omega 3 and 6... typically available only from fish. Formulated with mild vegetable-based cleansers, while including botanical extracts and a high level of aloe; which can assist in alleviating irritation compared with a low cost or commercial shower gels. Your customers will notice a soft after bath feel, plus a lighter conscience being that this is bio-degradable and phosphate-free.

* this is not a "no tears" product.
Ingredients

Ingredients: Deionized Water, Disodium Cocoamphodiacetate, Decyl Glucoside, Cannabis Sativa Seed Oil, Cocamidopropyl Betaine, Aloe Barbadensis Leaf Juice, Sodium Chloride, Glycerin, Chamomilla Recutita (Matricaria) Flower Extract (Chamomile), Salix Alba (White Willow) Bark Extract, Xanthan Gum, Phenoxyethanol and Caprylyl Glycol (Optiphen®).

How to Use

​ To use body wash, start by wetting your body thoroughly in the shower. Squeeze a small amount of body wash onto a loofah, washcloth, or your hands. Gently lather the body wash, using circular motions, all over your body. Pay attention to areas prone to sweat and odor, such as underarms, feet, and groin. Avoid getting the product into your eyes. After thoroughly cleansing your body, rinse off the body wash completely with warm water. Pat your skin dry with a clean towel. For best results, choose a body wash that suits your skin type, whether it's moisturizing, sensitive, or exfoliating, to address your specific skincare needs. Use the body wash during your regular shower routine to keep your skin clean, fresh, and hydrated.