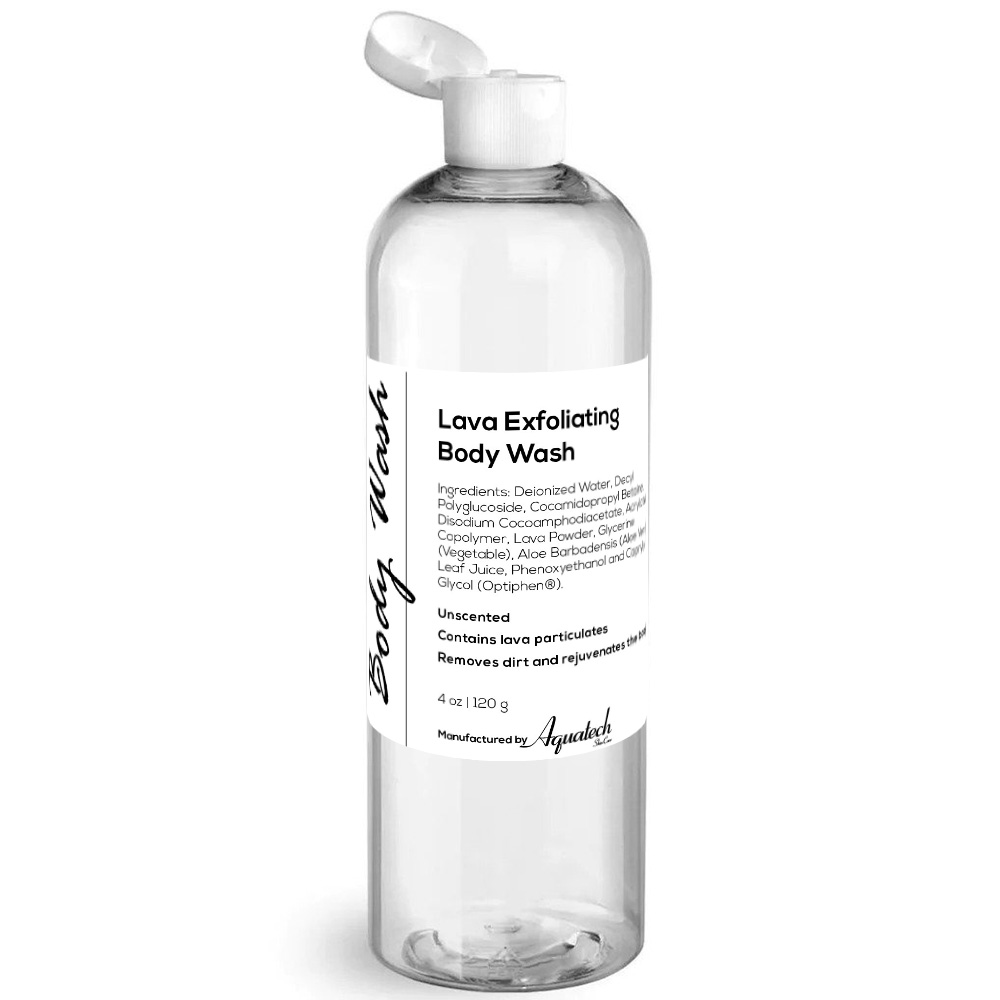 Lava Exfoliating Body Wash
About the Product

A mild full foaming hand and body wash with white lava particulates suspended throughout the gel. This light scrubbing action buffs dirt from hands and removes tired skin from the body. Combined with natural-based surfactants, it offers a smooth after-feel with a rejuvenating effect.

The lava is from the Auvergne region of France, where more than 80 volcanoes erupted between 100,000 and 7000 years ago. The beautiful scenery of Europe was carved from these volcanoes and explains the natural mineral springs – famous for healing spa's and bottled water. This lava is basalt, containing silica, magnesium, calcium, titanium, and sodium. As a natural product, it's mostly white in color, with the odd black fleck. Offer something new to your line and a unique twist over just another shower gel.
Ingredients

Ingredients: Deionized Water, Decyl Polyglucoside, Cocamidopropyl Betaine, Disodium Cocoamphodiacetate, Acrylates Copolymer, Lava Powder, Glycerine (Vegetable), Aloe Barbadensis (Aloe Vera) Leaf Juice, Phenoxyethanol and Caprylyl Glycol (Optiphen®). 




How to Use

To use lava exfoliating body wash, begin by wetting your skin thoroughly in the shower or bath. Dispense a small amount of the exfoliating body wash onto a loofah, washcloth, or your hands. Gently massage the product onto your skin, focusing on areas that need exfoliation, such as elbows, knees, and heels. The lava particles in the body wash will help slough away dead skin cells, leaving your skin feeling soft and smooth. Be sure to avoid vigorous scrubbing, especially if you have sensitive skin, to prevent irritation. Rinse off the exfoliating body wash thoroughly with warm water, and pat your skin dry with a towel. Follow up with your favorite moisturizer to keep your skin hydrated and supple. Use the lava exfoliating body wash a few times a week for best results, and enjoy the revitalizing and refreshing effects on your skin.