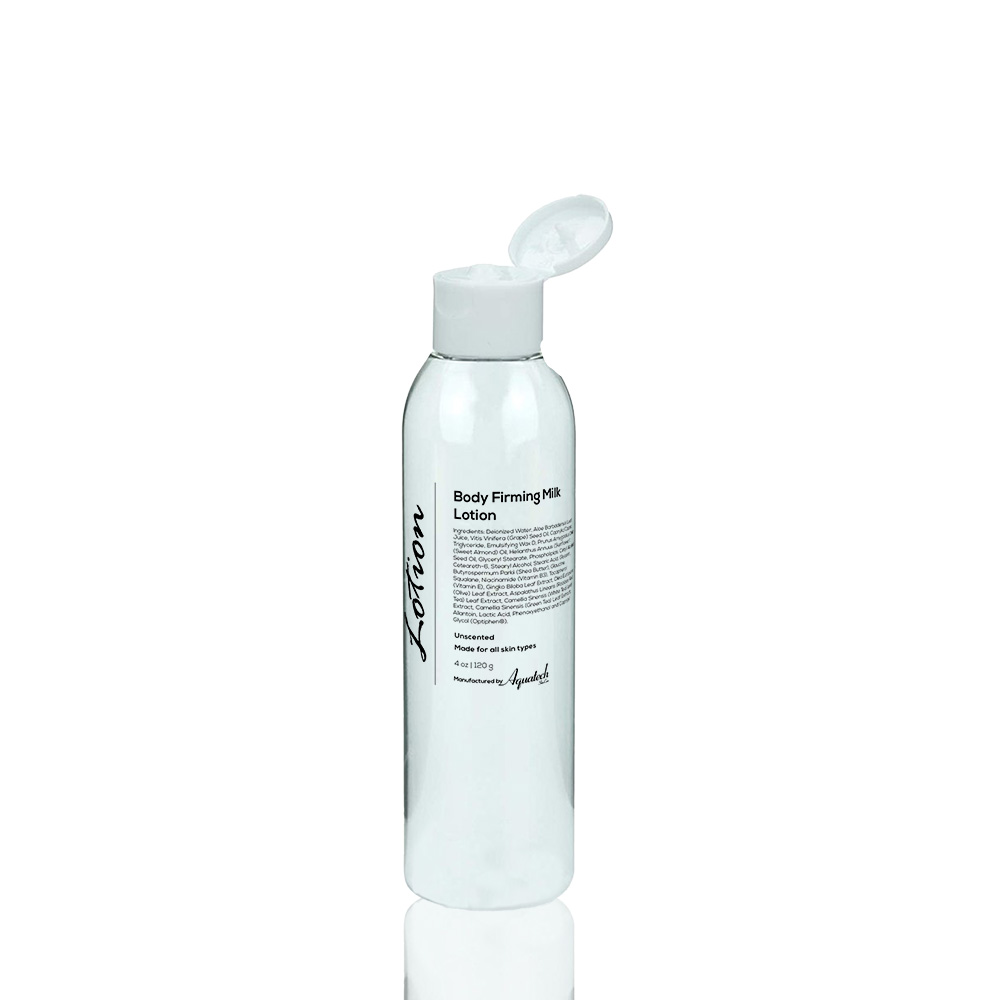 Body Firming Milk Lotion
Made to order
Please allow 7 days for manufacturing
About the Product

A total body moisturizer for men and women with firming and toning action. Softening oils of grape seed, sunflower, sweet almond and shea butter give the performance of a cream. Natural olive based squalane is highly effective in decreasing dryness, smooth scaly skin and creates a hydrating barrier to reduce transdermal water loss. Extracts of gingko biloba and olive leaf, blended with white, green and red teas; offer a high level of polyphenol (anti-oxidant) properties, functioning as free radical scavengers. Enriched with vitamin E and vitamin B3 (niacine) which is becoming more important for skin repair. Glaucine is the ingredient that stimulates lipolysis, diminishing fat cells and the appearance of cellulite and double chin. Studies available at Sederma Bodyfit.
Ingredients

Ingredients: Deionized Water, Aloe Barbadensis Leaf Juice, Vitis Vinifera (Grape) Seed Oil, Caprylic/Capric Triglyceride, Emulsifying Wax D, Prunus Amygdalus Dulcis (Sweet Almond) Oil, Helianthus Annuus (Sunflower) Seed Oil, Glyceryl Stearate, Phospholipids, Cetyl Alcohol, Ceteareth-6, Stearyl Alcohol, Stearic Acid, Glycerin, Butyrospermum Parkii (Shea Butter), Glaucine, Squalane, Niacinamide (Vitamin B3), Tocopherol (Vitamin E), Gingko Biloba Leaf Extract, Olea Europaea (Olive) Leaf Extract, Aspalathus Linearis (Rooibos Red Tea) Leaf Extract, Camellia Sinensis (White Tea) Leaf Extract, Camellia Sinensis (Green Tea) Leaf Extract, Allantoin, Lactic Acid, Phenoxyethanol and Caprylyl Glycol (Optiphen®).

How to Use

Dispense a small amount of lotion into your palm. Gently massage the lotion onto your skin using circular motions, focusing on areas that tend to be dry like elbows, knees, and heels. Allow the lotion to absorb fully into your skin before dressing. For best results, use body lotion right after a shower or bath when your skin is still slightly damp to lock in moisture and keep your skin soft and hydrated throughout the day.